I am happy to share a wonderful article with you featuring one of my photos from a shoot with Modest Couture by Elizabeth!  Fabulous!!!!! To see the actual article click here.
Photo By Jon Woodbury

In our second Q&A with a Utah Wedding Gown Professional, Betsy from Modest Couture By Elizabeth shared with us some of her insight into wedding gown trends and styles.  Betsy is her own designer and her style is extremely unique and different from any other out there.  In just a short period of time her designs have become very popular with brides from all over the United States.
According to Betsy:  "Modest Couture by Elizabeth was born out of a need for fun, unique dresses for brides, homecoming queens, Quinceañera, and all those who prefer not to show too much skin!  These dresses are different on purpose… I don't want them to look like the same old frumpy-modest dress. These dresses are intended to party, boogie and celebrate in, in your own style, while still having a fabulous one-of-a-kind dress made specifically for you!"
Photo By David Evans

Who is your favorite bridal gown designer?  And why??
Me!  Because my designs are distinctively different, offering 'new-vintage' inspired couture designs that are modest. I incorporate both old and new designs with old & new fabrics for a completely unique look.
What are the top dress styles & trends for 2011?
Lots of tiers, soft cascading fabrics, flowing layers, different types of lace, pleats and bows; and especially tea-length gowns.
What wedding dress trends do you foresee in the future?
More designers will start showing gowns with sleeves.
What is the first question you ask a bride when they come in looking for a wedding dress?
What is her vision and feel of her wedding?
What advice do you have for brides when searching for a wedding gown?
Try on all sorts of styles, with different necklines, waists, skirts and lengths.  You'll never know looks good on you if you don't try it.
Photo By Andrea Hanks Photography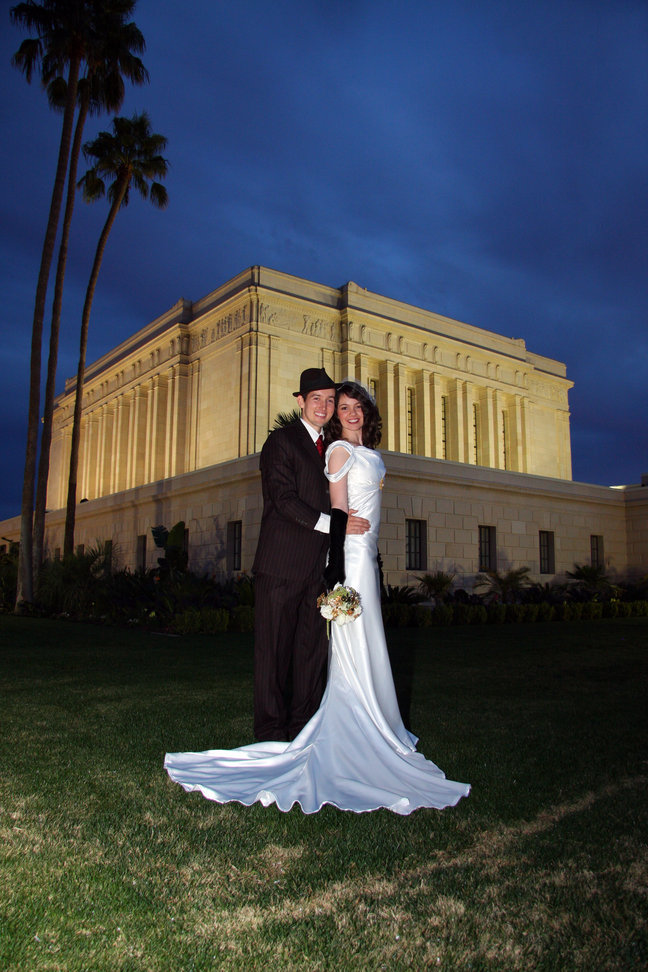 Photo By Glen Wilson